I'm having a really hard time wrapping my head around my daughter turning 3!!
Where did that time go?!
But here's my real dilemma:
I was in the hospital giving birth to Little Man during the ideal birthday planning time.
No biggie.
However, when I got home and took a few days to settle, I realized her birthday party should be in less than a month and I hadn't planned a thing!
So, I asked Emma what type of party she wanted...
a Sheriff Callie party!
Have you met Callie yet?
She's a completely adorable cat sheriff who helps her friends learn to be nice, be honest, and all the other feel good things you want your kid to learn.
She's also super new so there's NOTHING out for her yet.
No shirts, no partyware, nothing.
So I turned to Etsy.
I found the most adorable
Sheriff Callie bows
and had to get them for her!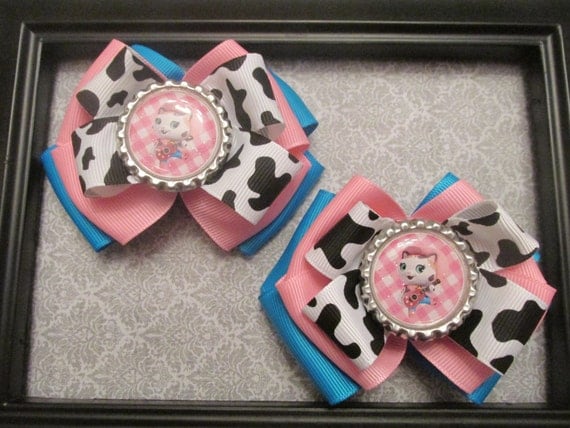 The Black Dahlia Dog shop is just perfect!
Great price, quick shipping, and she even included a bottlecap necklace with a Sheriff Callie insert for free!
Emmalee hasn't taken it off in days.
If you have a little girl, you should absolutely check out the
Black Dahlia Dog shop on Etsy
.
Oh, and no... this isn't sponsored, I just LOVE the customer service and the bows from this shop!