I love banana bread, but it has to be perfect. None of that yellow cake with the hint of banana flavor.
It needs to be perfect banana bread.
I legit make this at least once a month (if not more) and usually double the batch so I can tuck some away, without worrying about the hubs eating it all first!
1 and 1/4 cups all-purpose flour
2 large eggs
1 cup sugar
1/2 teaspoon salt
1 teaspoon baking soda
3 medium bananas
8 Tablespoons butter or margarine
1/3 cup chopped walnuts (optional)
Cream sugar and butter, mash the bananas and add to the mixture.
Beat and add the eggs. Slowly add the flour, salt, and baking soda. (If desired, fold in the walnuts at this point.) Pour into a loaf pan.
Bake at 350 degrees F for 40 to 50 minutes.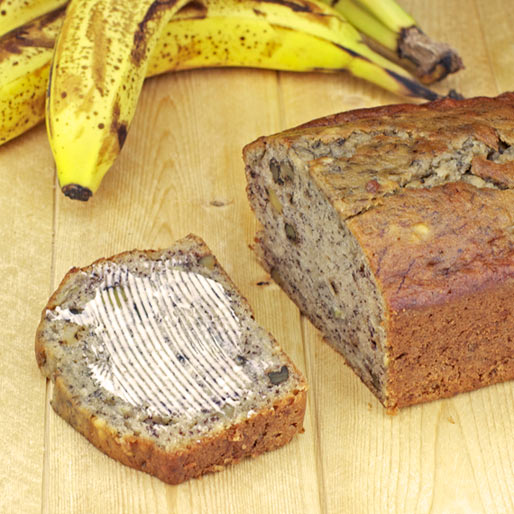 Cooking Notes:

This recipe makes one 9 1/2 X 5-inch loaf or three 6 X 3 1/2-inch mini loaves.
I never use walnuts in mine (no thanks), but sometimes I replace them with a handful of chocolate chips!
Give it a try and let me know what you think!