April 29, 2013
Shelley from Hand in Hand!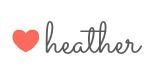 Whenever someone asks for my Christmas wishlist, this song gets stuck in my head... Admit you, you thought about this song too, and i...

About half of my Target trips start or end with a Starbucks Shaken Passion Tango Ice Tea Lemonade.  I don't drink coffee but that pas...