April 29, 2013
Shelley from Hand in Hand!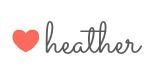 There's always something new floating around Facebook, and I kind of love these ones... Interviewing your kids is such a great way to...

Can you even believe another year is over? Sometimes the days seem so long, but then, the whole year is over and you're wondering where ...